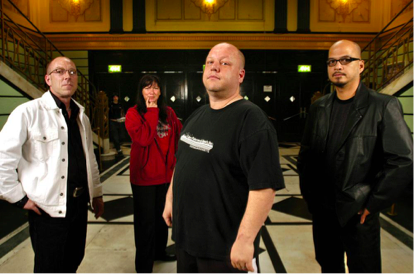 Pixies at Brixton Academy, June 2004. Photo by Steve Forrest.
Words: ROBIN MUMFORD
When Pixies halted an eleven-year hiatus by announcing a series of shows at the iconic Brixton Academy in 2004, excitement reached fever pitch. Four nights soon sold-out, each of which would be packed with longstanding fans and newcomers alike. Being the band they are, Pixies didn't take the obvious route and on the first night, June 2nd, opened in relatively restrained fashion by playing the Neil Young rarity 'Winterlong' before tearing deep into their discography.
Over the course of the four nights, they played almost all of the big hitters and fan favourites from the landmark albums 'Doolittle' and 'Surfer Rosa'; key songs and obscurities from the rest of their catalogue; plus further covers in the shape of Peter Ivers' 'In Heaven' (from the David Lynch film 'Eraserhead') and The Jesus and Mary Chain's 'Head On'. And remarkably, each of the four setlists was radically different.
Now recordings of the four shows will be officially available for the first time in the box set 'Live In Brixton', which will be released on January 28th. Newly mastered by Phil Kinrade at Alchemy Mastering at AIR, 'Live In Brixton' will be released on both vinyl and CD formats, each of which consists of eight discs.
It's a release that comes with it the overflowing excitement from the band's closest supporters, who will remember the Brixton shows, having been witnesses to a string of performances that would be etched into musical folklore for the rest of time.
But it's not just the band that played a cardinal role in making the nights so special - something that the members themselves acknowledge. "It was an amazing reception, I guess they had missed us over all those years," says Joey.
"I particularly remember getting word that the balcony was swaying, and seeing that the crowd didn't want to leave long after we had finished the show."
Dave adds, "Having played there in the past, the Brixton Academy was a familiar venue and the shows were a fantastic experience. When I opened with my Scientific Phenomenalist show, I was a Pixie opening for Pixies. I could do no wrong. But, I did! It was an absolute thrill, though, to present it there.
"All in all music or magic, the audiences were very kind and receptive and made it a joy to play. Nothing of my experience I would change. Long live the Academy."
'Live In Brixton' will also be available in a second vinyl box set which will be exclusive to select independent retailers. Each show is pressed on the same colours as the standard version, but this time splattered on otherwise clear vinyl. The limited edition run is sure to make it a must-have item for diehard Pixies fans and collectors.
The CD box set again uses the same colours for each night, with each show spread over two CDs. It will be packaged within a deluxe case bound book, with similar artwork to the two vinyl versions.
All formats include a 24-page booklet, which features photographs and new artwork, along with memories and paraphernalia from fans who attended the shows. The packages are completed by a 68 x 48 cm fold-out poster which features the new 'Live At Brixton' box set artwork.
'Live In Brixton' is now available to pre-order here.