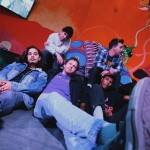 "I'm not a failure, I'm just repeating myself"
The LA-based alternative rock band Sleeptalk have returned with 'Nordhoff', their most anthemic release to date.
There is a really free and breezy vibe to the song that calls back to elements of 80's pop while maintaining a contemporary edge. The lyrics flow effortlessly; a narrative about chasing a certain perfection. One that perhaps doesn't exist in reality.
'Nordhoff' is taken from the band's upcoming album release, 'Deluxe' which follows up their debut album, Drown In a Rainbow.
About the new single., the band say: ""Nordhoff '' is about dealing with the ideology of everyone's lives being perfect over the internet. People nowadays are constantly scrolling through Instagram, TikTok,
and twitter hoping to go viral. Everyone is so obsessed with seeing all of these 'influencers' and
people blowing up and thinking that they all have perfect lives but in reality everyone is struggling
with the same thing, wanting instant gratification. The first line of the song "I'm not a failure, I'm
just repeating myself" is about me reminding myself that just because something hasn't worked
out for me the way it has for others doesn't mean I have failed."
Sleeptalk are made up of Anthony Fitzpatrick, Justin Melchor, and Malik Dugan, Jason Fitzpatrick andPaul McGill. The five-piece have been grafting hard on the LA indie-rock scene, opening for Twenty One Pilots and selling out their own shows in their own right. Their current goal is to tour with bigger bands and artists in order to get their music more widely known which is a great philosophy. 'Nordhoff', this new single release should go some way to achieve that. The track is immediately catchy - the production relays a certain ambience and the feel of the song is very much The 1975 at the height of their powers, which can only be a compliment.

Speaking about their upcoming second album, of which 'Nordhoff' plays a huge part, the band said :"A lot of the inspiration came from sleeping in an RV day in day out in the middle of nowhere with just the homies and no time constraints. We were able to really experiment in a multitude of sounds and tones that really played a big part in the album."

If this great single is any indication then Sleeptalk's second album is set to be a must-listen. 'Nordhoff' is lyrically ahead of the curve and coupled with the flowing backing track, the combination is nothing short of sublime.